Fully loaded limousines for 1 to 55 people, unlimited mileage, no travel time restrictions, and a chauffeur in Long Branch. We have all types of limousines available at any time for last-minute trips.
Our Long Branch Quinceanera limousine fleets include stretch Chrysler 300 with Lambo Doors, Stretch Cadillac Escalade With Lambo Doors, and party buses that can be customized to suit any group or taste.
NJ limousine transportation service will get you to your destination in style and on time. We offer New Jersey airport transfers, pick-up and drop-off at airports, and one-way transportation. Most often, the cost of a taxi is less than a bus. A small luxury bus is the best option for large groups who need lots of luggage space. We can provide NJ airport limousine service to take you from the airport to your hotel in style using a luxury bus rental. For all your luggage needs, we have Shuttle Buses and Limo Buses.
This motivates us to continue our profession and provide excellent transportation services in Long Branch.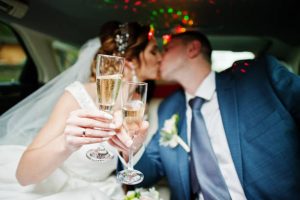 Limousines from us are the best choice for transportation to special events. Our limo service is exceptional so that you can enjoy any occasion in luxury and comfort.
We are happy to be your host on the big day of your Long Branch Wedding. Let us help you make your day memorable. Long Branch limousines are available for weddings.
One bottle of CHAMPAGNE is FREE for you and your spouse!
The Long Branch minibus rental is an excellent option for shuttle service at conventions, train station service for college students, and any other short-run bus services your organization might need. The minibus can carry 29 people and is double the size of a regular people mover. It is also smaller, more maneuverable, and more fuel-efficient than a bus rental or coach. Like all our shuttle buses, the minibus has comfortable upholstered seats and full-length windows. It also features climate control and a sound system. A few minibus rentals in New Jersey also have a luggage storage area, which is excellent for trips to the airport. These buses can be used as shuttle buses, but they also make a great alternative to limo buses or party buses for student groups, wine and beer tours, or other events that are on a tight budget. Call us to learn more about Long Branch minibus rental!
We often use multiple vehicles for our Long Branch wedding services, which means logistics are crucial. Our dispatchers ensure that drivers arrive on time and in the right places. Our team excels at providing exceptional customer service for weddings. Our wedding service includes the best dispatchers and limo drivers. We will make sure everyone arrives at the destination quickly.