Contact us for our Middletown, NJ, wedding limo service packages today!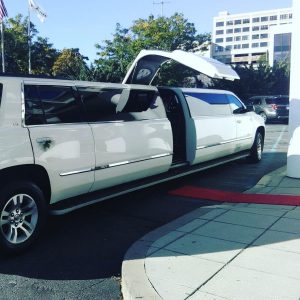 Our prom limos can seat up to 12 passengers, and our prom party buses can seat up to 26 passengers. The prom sprinter limo seats 13 people. Our Middletown fleet options do not stop at the three vehicles mentioned here; when requesting your quote, please note how many guests you anticipate so we can quote your prom in the car that best fits your needs.
No matter your event or occasion, you can have a completely customizable experience! We will accommodate whatever requests you have and help plan the evening to best fit your hourly limo needs. We offer a vast selection of amenities and will work with you to determine what to include in your Middletown limo experience.
Ready to start planning this upcoming Valentine's Day event in 2023? We provide quality Middletown limo services for all events and special occasions. Contact our quality team of experts to make your night one to remember!
We can accommodate your Middletown transportation needs any day of the week and any time of the day. When you hire us for your limousine needs, we will provide you with comfortable, reliable, and safe Middletown hourly transportation. Our rates are affordable, and we always have specials and deals for our customers. We provide a 100% satisfaction guarantee to our customers!
In addition to essential airport limo transportation services, we provide a relaxing experience. Our limo drivers are happy to prepare your trip by stocking your favorite beverages, music, or even magazines. We keep an eye on your flight's schedule and local traffic, so you can focus on enjoying the ride.
Whether you're turning 8 or 80, we ensure that you have the time of your life and remember your birthday for years with our luxurious Middletown, NJ, limo services.
Middletown, New Jersey Party buses, like most limousines, bring several features and functionality such as DVD/CD players with a Plasma TV, game consoles such as the PS4/Xbox One, Karaoke machine, disco ball, sound systems, and much more.
There's nothing like a glorious Middletown, New Jersey, limo tour after the lights go down. We allow you to explore the city at your own pace when city lights sparkle and monuments shine. It's a sight to see as NJ transforms into another city at night. Enjoy the view as we drive you around.
Our vehicles come packed with included amenities to help ensure every group outing is fun and entertaining. Several of those amenities featured with a vehicle rental can consist of:
– Latest Model Vehicles
– Professionally dressed, courteous, and experienced chauffeur
– Crystal Glassware (Available in specific vehicles)
Do you want to impress your clients with the most affordable luxurious limo bus rental ride for the business New Jersey trip? You want to book professional and reliable services to privilege your clients. Right?
What kind of event are you planning to attend in this Middletown area? How many people will be traveling with you? What is the date of this event? These are the questions we will have for you when you call us for your big night on the town or big day out! They're simple questions with easy answers, but they're the critical pieces of information that will allow us to choose the perfect vehicle for your needs. You can also browse our fleet on the website and select the car that appeals to you most and meets your needs.
We have the finest array of vehicles and wedding transportation packages to accommodate your wedding transportation needs.