Safety and customer satisfaction. Your Edison Transportation needs will be met with personalized service! Sedans, Limousines, Vans.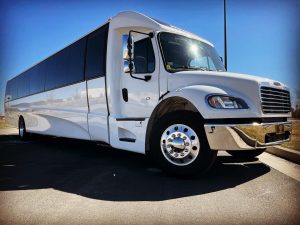 Our party buses and luxury stretch limousines are the latest models. They are meticulously maintained, fully equipped with modern technology, and come with complimentary refreshments. We can transform any night out into something extraordinary. You can travel with your clients, guests, family members, friends, and loved ones in elegant style, safety, comfort, and style. Our uniformed and highly trained chauffeurs will provide personal and courteous service. They are committed to your safety, enjoyment, and security. We offer the most affordable Edison limousine prices and special discounts for more significant corporate events. Talk to one of our highly trained customer service representatives for assistance in choosing the right luxury vehicle and service for your New Jersey event.
*Rates can vary depending on the time and date of your event
What are you waiting for? Edison, Limousine Service is ready to take you on a memorable night out!
Edison transportation is the last thing you must worry about on your wedding day. Edison transportation will pick you up and take you to your ceremony, and we can also transport you to Edison for your photo sessions.
Information about your event, special occasion, and our limousine transport service in Edison, NJ, will be available. You can also view all of our luxury limo vehicles, as well as frequently asked questions. You can sort the cars by type, size, and color, and this will make it easy to find the right limousine or party bus for you in Edison.
Book a bachelor or bachelorette party bus, or wedding day limousine service in Edison, New Jersey, to get a discounted rate.
We offer shuttle and limousine services to the Edison party and their guests. We can transport the bride to the ceremony and the wedding party to the reception. We can also help the newlyweds escape from the New Jersey airport or pick up their out-of-town friends.
We provide sparkling cider, special lighting, sound systems, and special vehicles for prom night 2023. Parents can rest assured that their children are safe and sound during this memorable event. A professional limousine driver will ensure you are transported safely in Edison, New Jersey. The limousine ride is the highlight of prom night for many teens. To ensure availability, we recommend booking your vehicle at least 6-8 weeks in advance.
We can arrange for the following:* Transport of the bride/groom to the ceremony location
* Transport of the wedding party to and from the ceremony
* Transport of wedding guests and family members to the ceremony
* Ground transport for wedding guests departing from the airport
* Chauffeur service provided for all guests and members of the bridal party at the reception or dinner venue
* The bride and groom can have a chauffeur service at the hotel
The 2023 prom night is an unforgettable experience that should not be missed. Our focus is on providing prom-goers with elegant, luxurious accommodations and prompt, courteous, and safe service. You can relax knowing that your loved ones will be safe while your friends and family ride in style and elegance. We will offer unsurpassed luxury service if you're interested in an Edison party bus or limousine.