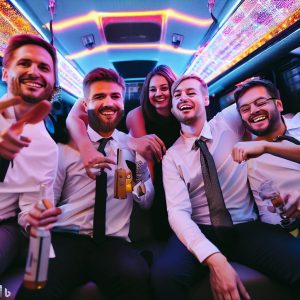 A bachelorette or bachelor party is an essential milestone in the bride or groom's life. It's a time to celebrate and have fun with close friends before the big day. One way to make it unforgettable is by renting a limousine or party bus. This article'll provide tips for planning a memorable bachelorette party with a limousine or bus.
# Choose Your Budget
Before planning anything, it's essential to establish a budget. You don't want to start planning a party only to realize you can't afford it. Once you've set a budget, it's easier to decide the type of limousine or party bus you can afford, how many hours you can rent it for, and what activities you can include.
# Decide on the Guest List
Deciding on the guest list is crucial because it determines the size of the limousine or party bus you'll need. Remember that the more guests you invite, the more expensive it'll be. You'll also want to ensure you invite people who get along well and enjoy each other's company. After all, the goal is to have a good time and make memories.
# Plan the Itinerary
Once you decide on the guest list, you can plan the itinerary. Consider what the bride or groom enjoys doing and plan activities around that. For example, if the groom loves sports, you could plan a stop at a stadium or sports bar. You could plan a wine tasting at a local vineyard if the bride enjoys wine.
Another option is to plan a scavenger hunt. You could divide the group into teams and have them compete against each other. You could also plan a murder mystery game. These activities are not only fun but also help to create memories that will last a lifetime.
# Choose the Right Vehicle
Choosing the right vehicle is crucial to the success of the party. Limousines and party buses come in different sizes and styles. You'll want to choose a vehicle that can accommodate your guests comfortably and has the amenities you want. For example, you'll want a vehicle with a dance floor and music system if you want to dance.
It's also important to consider the company you're renting from. Look for a reputable company that has a good safety record. You'll also want to ensure the vehicle is properly licensed and insured.
# Plan for Food and Drinks
Food and drinks are an essential part of any party. If you're renting a limousine or party bus, you'll want to plan for food and drinks. Some companies offer food and drink packages, while others allow you to bring your own.
If you plan to bring your food and drinks, ensure you know what's allowed. Some companies restrict the type of food and drinks you can bring. You'll also want enough space to store the food and drinks.
# Decorate the Vehicle
Decorating the vehicle is a fun way to make the party more memorable. You could decorate the vehicle with balloons, streamers, and banners, and you could also personalize the decorations with the bride or groom's name.
# Plan for Safety
Safety should be a top priority when planning a bachelorette or bachelor party. Ensure everyone has a designated driver or arrange transportation to and from the party. You could also hire a professional driver to ensure everyone gets home safely.
It's also essential to avoid excessive drinking. Encourage everyone to drink responsibly and have non-alcoholic beverages available.
# Conclusion
Renting a limousine or party bus is a great way to plan a memorable bachelorette or bachelor party. Proper planning can create an unforgettable experience for the bride or groom and their guests. Remember to establish a budget, choose the right vehicle, plan the itinerary, and prioritize safety. With these tips, you'll be sure to plan a party everyone will discuss for years to come.